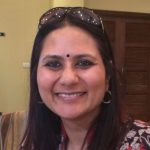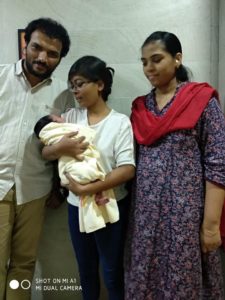 PAIN TO POWER – MY AMAZING 14 month VBAC JOURNEY.
BEFORE SANCTUM
In July 2017, at my 32nd week of pregnancy, suddenly my bag of waters broke at midnight. We rushed to hospital and checkups are done – they told we are going to do C-section to bring baby out (no antibiotics, no fluids, no injection to help mature baby's lungs, no options offered, and we had no idea either 🙁 ) and we said okay for C-section. Finally blessed with a baby boy, both families are happy. But, after 10 days, those moments are no more as we lost baby 😒😢…and that time my husband was great support for me, and said that next time it will be normal delivery only, no C-section, we will choose best care.
So, when i knew that i was pregnant again, we have searched hospitals in Hyderabad, enquired so many friends, colleagues & neighbors no one is telling us anything positive- all are saying it would be C-section again..Finally one of my husband's colleague's wife, who gave birth in Sanctum naturally, told us about this Center. So we decided to take an appointment in Sanctum.
At my first appointment in Sanctum, I was at 8 weeks pregnant.Crystal took 2 hours with my health history, all pros and cons of VBAC were discussed. Dr.Vijaya entered and after baby's heart beat check was done, one more hour discussions happened with Vijaya madam, especially since gap between pregnancies was so little. I felt very happy after this, and all my negative thoughts were gone about C-section.
We both are very HAPPY and I followed all things: diet plan, Lamaze classes, every day walking, exercises, played shuttle etc….i became very strong about my normal delivery in #LamazeClasses, and I knew how the birth journey is a wonderful moment in the world..😍
In middle of my pregnancy journey, I had many small complications – severe cold and cough, which they helped resolve without medicines. Next, 28th week onwards Piles..more struggle with that piles. But slowly that too resolved. Finally we crossed 32weeks – this was the point I was worried about due to last experience – so was super happy.
My due date was Sep 15th, we have crossed due date too…I have asked so many questions – and Vijaya madam gave answers with so much patience. She gave me full strength & confidence during each and every antenatal checkup….At 40 weeks 3 days, went for checkup with doppler and growth scan reports, all well! Vijaya madam told me that by next week, you may be in labor. 🙂 At 40 weeks 4 days, contractions are 2 hours apart – & as per my lamaze classes experience, I knew it was false contractions and didn't inform to anyone. At 40 weeks 6 days, I felt water bag has broken and informed Crystal – went to hospital for checkup…cool, no water broken – all was well!
41weeks now: Contractions started 10 mins apart…We went to Center and checkups, CTG done – baby is doing good…and we returned to home at midnight.
03:30am: Contractions are 5 mins apart – we called Vijaya madam and reached to center by 04:30am..Finally full day of labor!! Did exercises,water tub,squattings with the help of Kiran, Vijayakumari, Ramya and Aayammas…and Vijaya madam gave me more strength through out my labor.
MEETING MY BABY
FINALLY: 41weeks 2days, after some intense pushing, blessed with a 3.9 kg baby boy, with support of whole Sanctum family! Felt so much complete! 😍A special thanks to Vijaya Krishnan madam for giving me most memorable gift. I can't explain my happiness and joy with my words…It was an excellent journey throught my checkups, delivery and after delivery – the entire team support was excellent!