WellMom Physiotherapy Clinic – Designed for Women by Women
WellMom by Healthy Mother
specializes in providing wellness services for women right from their pre-pregnancy stage through their pregnancy, childbirth, to post pregnancy months and the years beyond. For most women, pregnancy can mean drastic changes in their body, and in many cases pregnancy and childbirth cause the body to undergo stress, fatigue and in few cases, trauma. Some of these changes can manifest themselves as follows:
Common Post Pregnancy problems
Pelvic Pain
Urinary Incontinence
Anal Incontinence
Perineal Pain
Pelvic Organ Prolapse
Chronic Back Pain
1 in 3 women experience low back pain during pregnancy whilst 1 in 5 experience pelvic girdle pain. As your pregnancy progresses hormones such as Relaxin and Oestrogen are doing their job of relaxing the ligaments of the muscles supporting pelvis, so as to make the descent of the baby down the birth canal easy. In pregnancy there is  extra strain on these ligaments, which can cause pain. At Healthy Mother our trained Physiotherapists can identify such conditions and advise you on steps to take to alleviate them. Through a combination of easy but effective exercise, training on sleeping positions and postures, and diet, our Physiotherapists will help you overcome this problem and enjoy your pregnancy.
Common problems Beyond Pregnancy Years
Post pregnancy your body tries to come back to its previous condition before childbirth. This is a critical stage, where if you dont pay attention to physical and emotional wellness you can face serious issues later on in life. Pelvic Floor is the most important factor in a smooth transition from pre-pregnancy to post pregnancy state. Strengthening of the Pelvic Floor muscles is very important because a dysfunction can cause serious problems like Urinary or Bowel Urgency / Incontinence, pain, or discomfort in sexual intercourse later on.
Our specialist Physiotherapists excel in counseling mothers who may have the above symptoms and help them through a series of Individualized sessions as part of an exercise regime. We have had 100% success in helping new mothers overcome their problems.
Many of the above problems can continue well beyond the pregnancy years. In addition, for older women who are approaching menopause some of these problems will magnify themselves causing increased stress.
Some of the other non-pregnancy related problems we can help with are as follows:
Stretching, mobilizing and manipulative techniques
Neck/back disorders: Diagnosis, treatment and follow up
Hip & knee conditions: Diagnosis, treatment and follow up
Foot/ankle injuries, sprains/strains: Diagnosis, treatment and follow up
Sports & automobile injuries: Diagnosis, treatment and follow up
Shoulder pain: Diagnosis, treatment and follow up
Arthritis: Diagnosis, treatment and follow up
Vestibular disorders: Diagnosis, treatment and follow up
Neurological conditions: Diagnosis, treatment and follow up
Weight Control: Diagnosis, treatment and follow up
Rehabilitation for Urinary Incontinence
Rehabilitation for Special Needs
WellMom's trained Physiotherapists have the skills and experience in caring for women who are facing problems like those mentioned above. Our Physiotherapists have the same level of commitment and passion that we bring to pregnant mothers and new mothers as our midwives at The Sanctum. Each of our customers is treated with care, respect and honesty when she seeks our help in her time of need.
Call us at 78930 84466 for an appointment or Fill in the adjacent form and we will get back to you within 24 hours.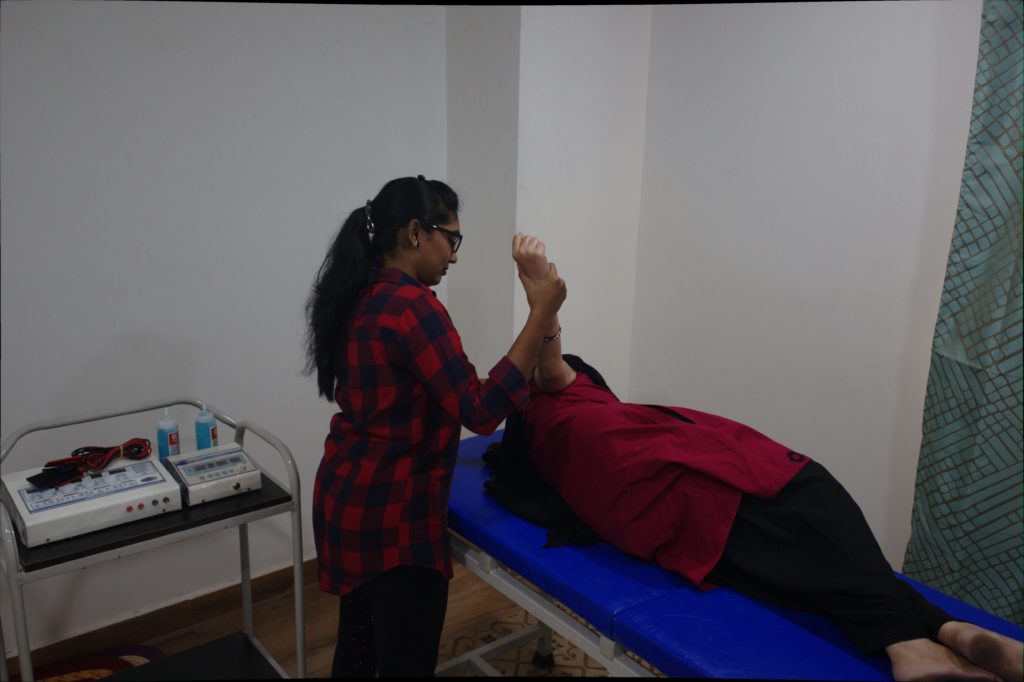 Tell us what you want