The Sanctum
(Home of Natural Birth)
Birth may be momentary but its echo lasts a lifetime
Live Your Birth
A Birth Center is the practice of MIDWIFERY CARE

"The practice of midwifery is different from the practice of obstetrics. Midwifery care may be provided by any qualified provider who practices a wellness and holistic approach to pregnancy, birth, and women's health care. Midwifery care focuses on the promotion of health and the development of individual responsibility. Midwives take time to listen to women…midwives believe that childbearing is normal and that a woman and her family should create the birth experience that will be meaningful to them. Midwifery is a collaborative practice that involves midwives, nurses, obstetricians, pediatricians and other specialists as needed. Midwifery honors and respects the wisdom and dignity of all women."
~ American Association of Birth Centers

OUR BELIEFS
We believe Birth IS SACRED


We believe a woman has the right to choose the manner in which she wants to give birth safely, and be fully involved in the decision making process

We believe women's bodies have the innate wisdom to give birth naturally, without unnecessary interventions, if they are supported by trained knowledgeable Midwives whose only interest is the well being of mother and baby. Mothers should be allowed to have a FULL TRIAL OF LABOR if there is no real medical emergency, which happens only rarely


We believe trained, INDEPENDENT MIDWIVES are the best advocates for moms, babies and their families, and are experts in the Science of Normal Birth. Midwives care for the physical and emotional well being of expecting mothers, and are the single most steadfast, round the clock source of counsel, support, encouragement and knowledgeable care during pregnancy, childbirth, new motherhood and beyond

The Scientific Midwifery Model of Care practiced at The Sanctum is testimony to the fact that we have the highest rate of natural births in the country.

MEET OUR TEAM
The Sanctum team comprises of Midwives, OB/Gyns, Doulas, Pediatricians, and other care providers who are passionate about doing right by Moms and Babies.
Scientific Midwifery Model Of Care
@ The Sanctum
The Scientific Midwifery Model of Care practiced at The Sanctum is rooted in the best scientific, evidence-based research and practice, which is recommended by public health institutions such as World Health Organization. We are the pioneers of this model of care in India and only among a handful of such Birthing Centers across the world. We consider the mother as the center of our care universe and are available for her at all times, during day or night, 365 days in a year. In addition to the mother's physical well being our midwives take great care to ensure her emotional, psychological and social support system and counsel, discuss and advise on any matter that mother may need help in. In combination of our backup team of OB/Gyns and other emergency care specialists and in house emergency care facilities we are able to offer to women the BEST choice of natural birth with 24-hr emergency backup in house, in case of need.
WHAT OUR MOTHERS SAY
Mothers who give birth at The Sanctum are our biggest evangelists. About 65% of our customers come from strong word of mouth recommendations from moms who have given birth at The Sanctum and their families. Our passion and commitment to towards mothers and babies is reflected in the lifelong relationships we have with them and their families.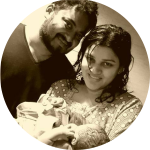 Thank you everyone for the love.. couldn't have asked for a better environment for our child to come into this world.. right from ayamma Manjula, nurses Sangeetha n Saroja, midwives Vijaya Kumari n Crystal each n everyone took care of us in the most patient, caring n loving manner like our own family. And what's there not to say about the captain of this amazing journey Vijaya Krishnan … She's one of the most passionate person I've come across.. very loving n extremely confident, caring with utmost of patience in dealing with us in this entire journey.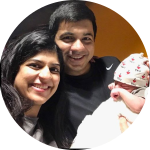 I had a fantastic birth experience at Healthy Mother and strongly recommend it. Since my son's birth, my friends and family often express admiration that I opted out of using pain medication in labor. Each and every member of the team was providing me with comfort measures, support, encouragement, and reassurance. I trusted that my midwife Vijaya fully understood my labor preferences and would follow them as much as possible. I trusted that any intervention would only be done if my husband or I gave informed consent. In such a setting, it really was easy! Thank you to everyone at The Sanctum for helping me have a dream birth experience!

No words to describe the experience of labor. Dr. Vijaya Krishnan has mastered the art of natural labor process, she knows how to bring the baby out. During 12 hours labor process she never gave up and constantly motivating us. We chose The Sanctum despite all demotivated comments and we together prove that we made a right decision. Seeing whole process of labor was an amazing experience and Kudos to all the women who gone through. We felt like the labor was happening in our own home. Kiran and Sangeeta were amazing. After each consultation our doubts were cleared and rightly guided. The diet consultation and lamaze classes were memorable. The postpartum care was very well explained and cleared most of misconceptions. Thanks to HM and wish them busy labor time.

Breastfeeding Success Rate

Make An Appointment
We are always a phone call or email away. We welcome moms, dads, parents, in-laws to talk to us and understand our model of care and why so many women and their families think of us as part of THEIR family