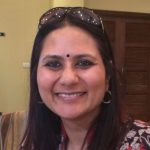 Sanctum Birth Stories – A VBA2C Story of Grit and Determination
I first met them 2.5 years ago. They come all the way from Khammam. A 6 hour journey by bus. And as I write this, my eyes are bright with unshed tears, remembering the bright smile and almost non-questioning belief that they are in the right place to try and have a VBAC. Mom has done her research, and that has led them to come to us almost at the end of her pregnancy.
First birth: 7 years ago: An oft repeated story. Mom goes for a routine check up. It is one day before her due date. She gets a scan. Told fluid levels are low, and that her baby will "eat the fluid"; she must get admitted. Induced with vaginal tablet, does not get strong pains. Yet she is told, your baby is high, your "pelvis" is not opening; you must go in for a C-section. Not knowing much about birth then, she consents. The point to note is this: In search of a normal delivery even then, she has gone to a government hospital in Chennai, because of the common belief that C sections are lesser in government hospitals!! And she is a hardy, hard working Mamma. Has no illusions or fairy tale notions about birth, she knows it is hard work and is prepared to work hard. Of course, she is disappointed.
Second birth: 2 years ago. That midframe of "I will work hard for a natural birth" persists. We prepare her mind and body further with Lamaze classes. She walks and exercises and does all her housework by herself. And, she goes into labor by herself, just shy of 40 weeks. By the times she gets to the Birth Center, her contractions are strong and 5 minutes apart. Baby is still a bit high, but she gets to 7cms dilation. Her bag of waters releases with meconium. Baby is still doing fine, but then once the pressure of her bulging bag lessens, the cervix is now around 6 cms open. Here is the hard part. Her uterus acts relentlessly – Contractions are every 3 mins. Super strong. Long. And no matter what positions we use, and what comfort measures we try, and what exercises she does, even after 7 hours, there is no change. More importantly, Mom has a sort of pain that cannot be described. For someone like me, who watches labor – it becomes very clear that this labor will not progress. I talk to the parents – specifically to the Mom. With a heavy heart, I tell her – both you and baby are well, and we can still try, but this labor is not going anywhere soon. And, with full informed consent, Mom agrees for a repeat C section. When we go in for the surgery, we find out why that labor did not progress – the effects of her last surgery. Her uterus is bound to the abdominal wall by extreme scar tissue. Prevention of that first Cesarean is so important!!! And, in this case, closing of layers of tissue was not done well during her first C section. Dr. Jayanthi, patiently, resects everything layer by layer. It will be a long proceedure, but now all layers are separated and closed well. And, Mom has her second baby boy!!
💜 She is happy. A testament to how hardy she is, Day 2 she wants to go back home – 6 hours away!
Third birth: The one that will finally – in her words – "make her a woman"
She comes for her first check up at 19 weeks. Same honest, down-to-earth hard working Mamma. Now she is managing her home, 2 boys. Joshua, the youngest one, born into our hands 2 years ago is like his mom, cheerful, non- stop activity. The elder one, 7 years old, is quieter but is also a very, very happy boy, and is loving being a part of his family's journey to having this baby!
💝
We talk about pros and cons, and chances of having a successful VBA2C (vaginal birth after 2 previous C sections). Mom's mind is uncomplicated. She will do what it takes. All ahe wants is a good shot at it. Okay, Mamma let's do this!
Between 20 weeks to birth, they will keep most appointments, miss some. It is harder with 2 kids and a 6 hour journey one way to come for check ups. And kids fall sick. Mom's hemoglobin drops. We get her iron supplement drips and get her to focus on nutrition again. It improves. But through it all, there is never ever a question in her mind, about whether she will have a natural birth.
37 weeks plus. Baby is still a bit high. A round of optimal fetal positioning routine. And I suggest that she join a session of prenatal aerobics that day. Gamely, in her saree and all, she rocks the prenatal aerobics session
😍
😍
😍
Labor: Starts at 38 weeks plus. Early labour starts on a Tuesday morning, but goes away that night. Only to start again early Wednesday morning. We hear from her after a few hours, and she manages beautifully at home. By the time she comes in at 10:40 pm, she is already 8 to 9 cms dilated! Crystal is on call that night, and she calls me and says, well it looks like we might have a baby soon. I head in to the Birth Center. She is in her element, walking, moving, on hands and knees, squatting. And oh so cheerful. Hard work during contractions. Laughter in between contractions. Yes, I can help her have 10 more babies if she chooses. That is how much she just amazes me in labor.
😘
At 11:50 pm, her bag of waters releases, clear fluid this time. She has been feeling like pushing on and off, and this continues. An hour later, we check with her permission. She is around 7 cms, with the pressure of the bulging bag gone. Contractions are now 2 to 3 mins apart. We try everything from shower to watertub. 3 more hours into it, Mom is now questioning, will it happen? Yes it will, Mamma. But as a human being, I am also replaying her last labor in my mind. Crystal and i step out of the room, while Roja supports her. She wants her husband to be near her and read out the Bible. Then contractions are intense.
As we look over her chart, my heart wants to sink. It is the same pattern. 7 hours now and no change. Is it something in the way her babies enter the pelvis? One positive, she is 2 cms further than she got last time. But I go back and ask her, whether her pain is qualitatively different this time? Our theory was severe scar tissue not allowing labor progress last time. I want some clue to help counsel her. She says instantly, without any doubt – "No way, last time the pain was horrible and so different. This time, it is only in my lower abdomen". I breathe a small sigh of relief. My first job is to keep her and her baby safe. This information along with mom and baby doing well, and baby coming a bit more lower, are good signs. But for how long?
By now, Mom is wanting to give up. She asks her husband if she should go in for a C section. I ask her to look at me, in between contractions. I tell her "Mom it is your and your decision alone. You have come to me wanting this more than anything else. This labor, we have not really worked with anything except your own body's urges and comforts. Let us work hard with exercises and positions for 1 hour. If baby does not move even then, you can take a call then", I say with a conviction that stems from somewhere deep inside – Moms know how to give birth, babies know how to be born.
That does it for this Mamma. In that moment, she wakes herself literally out of feeling weak and drowsy. I help her with cervix massage over few contractions. She says she wants another shower. Ok. Shower done, she squats and pushes. Back on the bed. Cervix is still closing on one side, but now her baby has dropped further into her pelvis and she is pushing without any further need for words. And, another half hour – she can now touch the top of her baby's head. A big smile. Back to the hard work again.
💜
💝
💜
At last, one big push.. and she has her much prayed for baby girl! (She had earlier told Manjula ayamma in jest, that if she had another baby boy, she would leave him at the Center
😁
😜) Absolutely no tears from her. Lots of joy – "I am finally victorious in my quest for natural birth.. My body work…. I did it… I had almost given up…I am glad that you gave me confidence"… And, finally this "My woman, made me a woman".
💝
💝
My tears flow silently and uncontrollably. I am still watching for placenta and bleed and a million other things. But in that moment, I know the true meaning of being a Midwife. I also know the power of #SisterMorningstar 's word medicine – "What one wymin can do, all wymin can do", she says – Truth