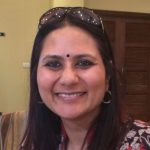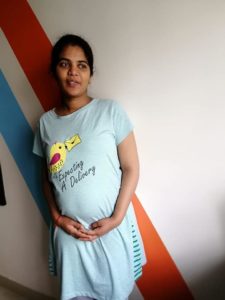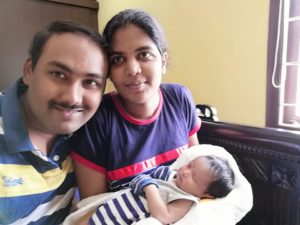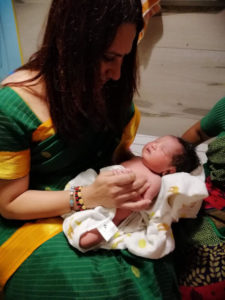 A 4-WEEK LABOR (of LOVE, CONTRACTIONS, TWISTS AND TURNS)
BEFORE SANCTUM
I had a road accident 3 years ago and had to undergo a plastic surgery on forehead, 2 fractures in the cervical area of spine. I was robed by the attendent in the ambulance, and later was very much ill treated by the staff in the hospital. After this I was terrified of how people handle us when we go to a hospital.
So, when I knew that I was pregnant, first thing that was on my mind (though it sounds funny) was to search for a hospital where people are very soft natured, patient and treat me good. I wasnt worried whether the doctor does a c section or normal delivery to me, but I wanted her to do it patiently and lovingly.
So I started my hunt tried three hospitals before I landed in Sanctum.
FIRST IMPRESSION OF SANCTUM
I was so happy that my cousin showed me a place which not like a hospital. We had our first visit in my 18th week. It was when I first heard my baby's heart beat. I was in awe to hear it for the first time and wondered when Kiran shared the same expression while checking it too. Then, after talking to Vijaya, I understood how passionate they were about birthing. This isn't simply felt in their words; I felt like they regarded me as though I am the only mother they have at their birthing center.The checkups were that caring and are of no hurry. They were ready to hear anything you ask for and give you suggestions.
18-34th Week
Then, the diet session, regular checkups, Lamaze classes followed.
35th Week
I was enjoying my pregnancy and everything went well until my 35th week. It was on my 35 week 3rd day, that I started to get contractions which were 2.5 min apart. With the knowledge from the Lamaze classes I assumed it to be false labor. I waited for 3 hours changing positions but got regular timed contractions so I called up Vijaya and had to rush to the center. Then, they had to slow down my contractions for 24 hours as the cervix already started thinning. This is to kill time to take 2 doses of injections for maturing my baby lungs. And the contractions which were 2.5 min apart 20 sec long began to slow down and later stalled.
So, at that point Vijaya counseled that there might be only two options for my baby. One would be if the stalled labor started again, and we would have to be ready to welcome our preterm baby. Second, would be that the baby would stay put – no labor – and grow until full term. She told me that her prediction would be option 1 in 48 hours. But, my baby chose a new option. 🤗
Contractions neither picked up nor stalled completely. Contractions and pain (6 to 7 hours of 5min apart 20sec) would begin at nights and gets stalled early morning daily but it never turned into anything more. It was uncomfortable but was very much bearable. However, it hit me mentally more than physically because each time the contractions begin I was expecting something would happen. The fluid levels were ok, at index of 11 at this point.
36th Week
By end of 35th week checkup, I had spoke my heart out with Vijaya and was more with a stable mind unlike last week. But, I had a new problem that came up. My belly would become so hard for like 20 hours a day causing severe discomfort, breathlessness. This makes me unaware of the baby movements. So, at times I had to rush to the center and each time they would start a CTG and assure me that the baby is doing great. Lower fluid levels were suspected and were at 9 in this week.
37th Week
21/9/18:
Due to the contractions and hardening of belly I was asked to take a doppler again in my 37 week and it showed a index of 7.7. In the scan a doubt of early fetal hypoxia was expressed.
22/9/18:
Though Vijaya, me and my husband were confident about the baby, she suggested that one option would be induction, as the report needs to be acted upon. However, we wanted to wait for the labor to begin instead of induction. So, we finally decided to take another scan the next day and then act accordingly.
But, right after the discussion we headed home and in a hour I started to experience bleeding (only strings of bloody discharge). I called up Vijaya and she asked me to relax and wait for the labor to begin tonight. As expected contractions started which were 5min apart.
23/9/18
The contractions unlike every time began to continue and the bleeding(only strings of bloody discharge) continued. So, I was so happy that the labor began and skipped the scan as planned. But, in the evening the contractions stopped completely. I neither had the scan done to decide on inducing nor have the pains. With this confused and stressed mind we headed to the center. To proceed further, Vijaya had to check me internally because we were worried about the bleeding too. And to our surprise, I was dilated by 2.5 cms. So, my contractions hadn't gone in vain.
24/9/18
The contractions which were stalled the previous day did'nt pickup until afternoon but I suspected a water break. So, I called up and headed to the center. The water break is uncertain with the litmus and so I had a CTG done and the baby is doing great. So, I was asked to leave and wait for the labor to pick up. Also, I was asked to come the very next day for the dose of antibiotic. Contractions started again at night and got stalled in the next morning.
25/9/18-26/9/18
Next morning when I headed to the center for the dose of antibiotic I had no contractions. They wanted to confirm my water breakage but it neither showed yellow(no break) nor showed blue(breakage). It showed green. CTG is also not that great this time. Also,the fluid just showed a index of 5. The dilation was 3.5 cms at this point but the contractions weren't picking up. All the conditions indicated to start a induction.
As part of Natural Induction, I started to take dosages of herbs, walking and stairs and my contractions began to be regular and continued to be 5 min apart from afternoon to midnight. At midnight they suddenly picked to 3 min and slowly Iam into active labor. I was so happy and was literally enjoying the contractions because I was waiting so long for this active labor. 😍 The ball was my friend through out until I entered the water tub early morning. I wonder how I slept in between the contractions in the tub. 🛀
But, by the time I was into pushing I was drained out of energy. I was pushing for hours and when I was giving up, Vijaya came to my rescue.
At this point my brain was blank and my body was exhausted. All I could hear is Vijaya's encouraging words during the contractions and my husbands pampering words in between the contractions. And finally, I had to go to my most uncomfortable position i.e., bed to do my final pushes and now the whole team supported me. All I remember is pulling Vijaya's hand as much as I could and I still wonder how it brought my baby out – Lol. 😁
Due to the road accident that has happened to me, pain was my biggest fear, and I could overcome it because of Sanctum. Dear Sanctum – Your pain management techniques, birthing positions are really savers and make labor easily manageable. I would like to thank the team Sanctum for all the support. I want to specially thank Sangeetha and Aayamma Bhagya who bore all my shouting and kicking in my peak contractions.
AND FINALLY, AS SAID BY MY HUSBAND, MINE IS NEITHER A 'NORMAL DELIVERY' NOR A 'C-SECTION' BUT IT CAN BE CALLED A 'VIJAYA DELIVERY'. 😆😃