Healthy Mother Lamaze Accredited Childbirth Educator Workshop
The Lamaze International Certification is recognized worldwide as a comprehensive, well balanced, research based certification. The Lamaze Standards of Practice and Code of Ethics will provide you with professional standards, which are well accepted in the international health care community. There are 3 Pathways to certification depending on your experience. The requirements for someone new to childbirth education are as follows:
Attend the Healthy Mother Lamaze Accredited Childbirth Educator Program

Buy the Lamaze Study Guide & Required books

Write the Online Lamaze Certification Exam
As a participant in the Healthy Mother Lamaze Teacher Training Workshop, you will be supported in this process with one-to-one mentoring as you work through the Lamaze Study Guide and will be assisted in finding and arranging your observations and practice teaching. Throughout the process we strive to create a supportive environment for our students, many of whom are geographically isolated from others who do this work.
Healthy Mother Lamaze Trainer Community Program
As part of the Healthy Mother Lamaze Trainer Community you will be eligible for ongoing support in terms of continuing education, help in setting up of your practice, marketing support and help in related areas. 90% of ALL Lamaze teachers in India are graduates of the Healthy Mother Lamaze Trainer program.
If you are passionate about helping bring about positive change in birth practices across the country by becoming a Lamaze Trainer, please fill out the form on the right and send it to us. We look forward to talking to you.
What you will learn in the Lamaze Teacher Training Program
The Healthy Mother Lamaze Accredited Childbirth Educator Program is the brainchild of Dr. Vijaya Krishnan, India's foremost Lamaze expert and trainer. She introduced Lamaze education in India in 2008 has helped thousands of couples become knowledgeable, confident and overcome their fears and myths surrounding pregnancy, childbirth and new parenthood. Healthy Mother Lamaze Teacher Alumni are the most sought after childbirth educators across the country, ranging from Kashmir to Traivandrum, Ahmedabad to Shillong.
Over the course of the 3 day workshop students will learn about theoretical and practical aspects of teaching Lamaze practices and concepts to expecting couples in the Indian context. The Lamaze Teacher Training program will sensitize teachers to the social and cultural aspects of families you will come in contact with. The course will contain everything you need to know about starting your own independent Lamaze Childbirth Education practice. At the end of the course you will be awarded a Certificate of Completion which you will use as the prerequisite to sitting for the LCCE (Lamaze Certified Childbirth Educator) Certification exam conducted by Lamaze International, USA.
Check out importance of Lamaze classes for good outcomes in pregnancy and birth.
Fill out the form on the right and we will send you a detailed brochure about the Workshop.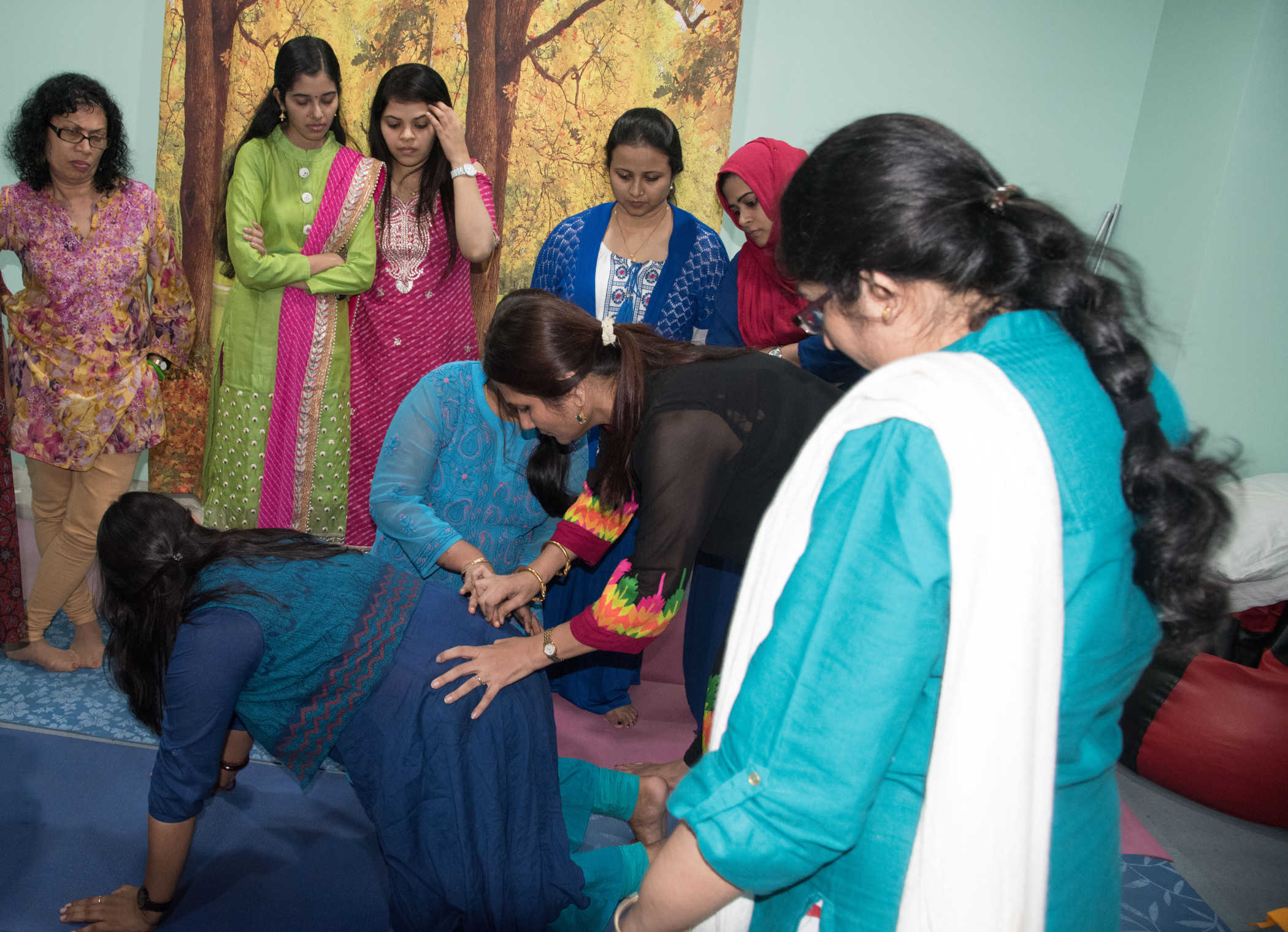 Next Workshop
April 5, 6, 7, 2019
Bangalore

Combine with
Infant Massage Training for Practitioners
April 4, 2019
You are just amazing in your knowledge. I would like to know the secret of your energy!! I am lucky to have come all the way from Pune to do the workshop with you and it was an excellent experience for me. I will try to make a difference in the lives of every mother-to-be in the Pune area by making use of what I have learnt in the workshop.
I only remember when I spoke to you for the first time. I strongly felt that you are somebody who will have a major role in my life. I always felt connected with you and you were always there for me as a mentor whenever I needed it. Thanks for clearing so many doubts, You are an inspiration and role model for me. Feel blessed I met a person like you.
This course / workshop outdid my expectations. I dont think we would be able to find / read about practical difficulties of adult education anywhere else. You gave us profound gems of wisdom which took years of hard work on your part to gain, but still graciously you passed it on to us with selfless attitude of a teacher. Mam, someday I wish to complete my Midwifery course and come and intern under you. Thank you so much for the wonderful opportunity.